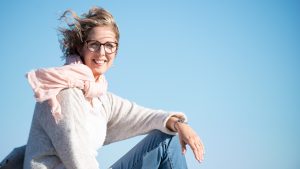 Welcome to the end of my comfort zone!
My name is Nanda and writing a blog is something I thought I would never do in a million years, but obviously here I am. With my writing I will take a conscious step directly outside my comfort zone because isn't that where life begins? I am passionate about awareness, compassion, acceptance, honesty and truth in life so that is what this blog will be about.
I am a mom, wife, friend, seeker, writer and dancer who is thoroughly enjoying the ride in this roller coaster called life. I spent my first twenty years in the Netherlands, the second two decades in Sweden and I recently took a six-month timeout in a little village by the sea in Spain before moving back to Sweden again.
Embarking on a new journey as entrepreneur and professional Holistic Counselor, I practise being here and now while living my truth. Writing turns out to be something that feeds my soul, so instead of keeping it to myself I hereby face my fear of judgement and choose to share my words with you.
I'm happy you want to read my blog and it is my sincere wish that it will somehow enrich you.
With love,
Nanda